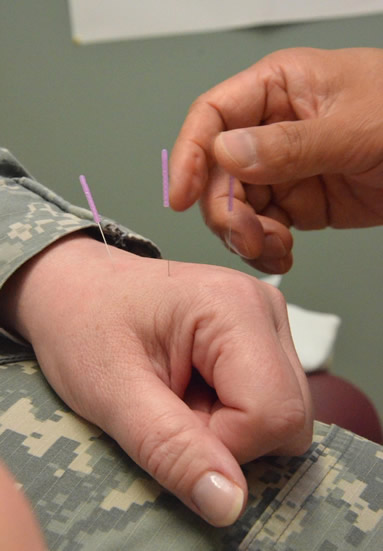 It is a question that is frequently asked by people undergoing treatment or by those who hear a story of a chronic ailment being significantly improved or cured by Chinese medicine.
In our current world where people are bombarded with conflicting news and an overabundance of information, there are many skeptics about many topics, to include alternative medicine like acupuncture. Of the many alternative therapies out there, acupuncture is a scientifically proven holistic therapy and clinically effective form of medicine.
In a recent clinical trial conducted by Mass. General Hospital's Biomedical Imaging Investigators, they explored the tough questions many people ask. Why and how does acupuncture work? The researchers used Carpal Tunnel Syndrome (CTS) sufferers. Using advanced neurological testing, they were able to test the speed of signals sent along the median nerve, which gave them a defined result on how the treatment was progressing.
After a few months of treatment the researchers discovered that acupuncture had improved symptoms in patients and had in some cases patient experienced remapping of their brain on how it receives signals relating to touch and pain.
The study used 80 patients split into three groups. The first group received acupuncture treatment in their hand affected by CTS. A second group had treatment via the opposite ankle (foot acupuncture) and the third group had treatment near the hand that was affected, but treatment was not specifically aimed at treating CTS. So basically the third group was an acupuncture placebo group.
With extensive magnetic imaging testing, the researchers saw physiological improvement in both the first two groups, through changes to the brain which converted to pain relief. The placebo group (third group) received no such improvement to their physical symptoms but still reported improvement in their condition.
Senior researcher Vitaly Napadow explained this phenomena by saying "both peripheral and central neurophysiological changes in CTS may be halted or even reversed by electro-acupuncture interventions that provide more prolonged and regulated input to the brain—something that future, longer-term neuroimaging studies should explore."
So in essence using placebo groups does not fully allow a detailed and concise explanation of acupuncture treatment, however the categorical improvement across the board in patients undergoing acupuncture for this type of ailment and other ailments is present in the hands of a trained and licensed acupuncture therapist.
Nikki Peoples, L.A.c / Herbalist
Satori Acupuncture of Knoxville.